Manufactured by using disc and rolls designed according to the capacity.
Driven by 1 or 2 electric motors according to the required power.
Equipped with high quality stainless steel disc and rolls.
Steel hosing is made of from welded stfifened carbon steel, very strong body.
The pellet press is equipped with safety pins which are broken incase of overload. By this safety pins, main shaft is protected against exceeding the permissible torque.
Pelleting parts are statically and dynamically balanced.
By permanent magnet which is mounted to the front door of pellet press, the ferrous particles are removed.
Pneumatic diverters are mounted to front gate of pellet mill to prevent overloading.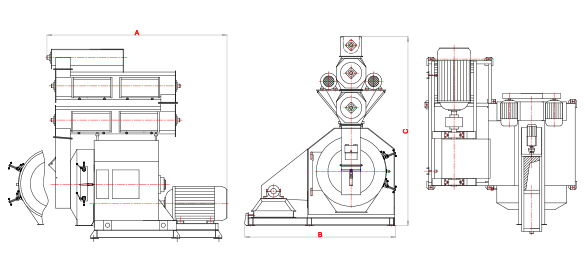 Pellet Mill
Model
DIMENSIONS (mm)
POWER (kW)
CAPACITY (ton/h)
A
B
C
1701-15
2150
1920
3200
90x2
15
1701-20
2520
2100
3580
110x2
20
1701-30
3280
2500
4350
185x2
30
*Dehsetiler reserve the right to make changes in pictures and machine specifications without notice.
*The capacity depends on the material property to be pelletized.